Architecture
About Architecture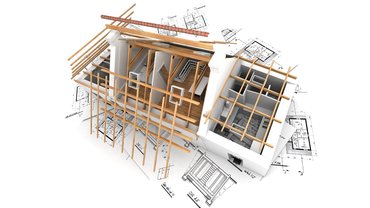 Architecture is the science as well as the art of designing a building or any physical structure. This is a unique field that combines art and culture, science and technology and even elements of business.
History has gifted us with amazing architectural marvels. The Colosseum, the Great Wall of China, the Great Pyramid of Giza (thought to be built by aliens) and many others give us a glimpse of our past and has paved the way for the future. The importance of architecture s in preserving culture and also in the advancement of Civilizations. Architecture is definitely interesting!
As a professional course it is lengthier than other bachelors' programmes like arts and humanities. The duration of undergraduate study varies from country to country. The degree awarded is popularly known as 'Bachelor in Architecture (Bachelors in Architecture). The course usually involves long hours of work in the form of studies, projects and design drawings.
Architects are work on:
Developing ideas with the client
Earmarking budgets
Assessing the layout of the building and its impact on the local environment
Working on building designs and projects
Site selection and work in tandem with contractors on site
An architect's job is also to ensure that the work is carried out to specific standards and above all, ensuring that the structure being built is sustainable, functional, and aesthetically pleasing
Direct Entry Requirements:

These are the conditions you need to fulfill to gain Direct Entry admission to study
Architecture, if you don't intend to use UTME.
You require;
Two (2) 'A' level passes chosen from Mathematics or Physics and Chemistry, Geography or Fine Arts.
ND/HND upper credits in the relevant field.
UTME Requirements:
The O'level subject combination and requirements needed to study Architecture;
You require;
Five (5) SSC credit passes in English Language, Mathematics, Physics, Chemistry and
any of Fine Art, Geography or Wood Work, Biology, Economics, Technical Drawing,
Further. Mathematics., Introduction to Building Construction, Bricklaying/Block laying,
Concreting, Wall, Floors and Ceiling Finishing, Joinery, Carpentary, Decorative Painting,
Lining, Sign and Design, Wall Hanging , Colour Mixing/Matching and Glazing,
Ceramics, Graphics Design, Graphic Printing, Basic Electricity.
UTME Subjects:
In UTME, please note that English Language is Compulsory for this course. Therefore,
the three (3) other JAMB UTME subject combination needed to study Architecture:
Physics, Mathematics, and any of Chemistry, Geography, Art, Biology and Economics.
Skills and Competencies needed in Architecture
You'll need:
design and drawing skills.
a methodical, logical approach.
analytical skills.
excellent maths skills.
communication and negotiating skills.
imaginative and creative thinking skills
ability to analyse and critically assess problems
numeracy, design and drawing;
IT skills, e.g. computer-aided design (CAD);
project management skills;
the ability to solve problems in an analytical, logical way;
the ability to work as part of a team;
written and oral communication in various settings;
research skills;
decision-making ability;
adaptability and flexibility for dealing with unexpected situations where necessary;
the ability to reflect on, and improve, your professional performance.
ability to see the big picture as well as giving attention to the smallest detail
ability to communicate effectively
understanding of history, and cultural and environmental concerns
Career Opportunities and Job Prospects in Architecture
Asset manager
Construction manageer
Disaster reliefer
Furniture designer
Industrial designer
Interior designer
Project manager
Property developer
Researcher
Theatre designer
Urban designer
Urban planner
Architect
Architectural technologist
Interior and spatial designer
Building surveyor
Commercial/residential surveyor
Construction manager
Higher education lecturer
Historic buildings inspector/conservation officer
Landscape architect
Planning and development surveyor
Production designer, theatre/television/film
Structural engineer
Town planner
Institutions where you can study Architecture
Abia State University
Ahmadu Bello University
Akanu Ibiam Federal Polytechnic
Ambrose Alli University
Anambra State University
Bauchi State University
Bayero University Kano
Bells University of Technology
Caleb University
Caritas University
Covenant University
Crescent University
Cross River State University of Technology
Enugu State University of Science and Technology
Federal University of Technology Akure
Federal University of Technology Minna
Federal University of Technology, Owerri
Godfrey Okoye University
Imo State University
Joseph Ayo Babalola University
Kaduna State university
Kano University of Science and Technology
Ladoke Akintola University of Technology
Modibbo Adama University of Technology
Nnamdi Azikiwe University
Obafemi Awolowo University
Olabisi Onabanjo University
Rivers State University of Science and Technology
Tansian University
University of Ilorin
University of Jos
University of Lagos
University of Nigeria
University of Uyo
Students who complete their graduation can join a firm or start their own practice as an architect. The suggestion though, is to first work for a firm. This would give them much needed experience in dealing with clients and to cater for their needs and an understanding of the work involved and of the market. This knowledge will help when they want to start their own firm.